Professional Pressure Washing Services
Pressure washing is one of the best ways to upgrade the curb appeal of your home while prolonging the life of your home's exterior. At Absolute Exterior Cleaning, our professional power washers will effectively remove built-up dirt, grime, mildew, and other contaminants from the exterior of your home for a thorough and beautiful deep clean. Our skilled pressure washing technicians are specially trained to use the safest methods of power washing, keeping you and your home safe from hazardous cleaning solutions. Whether you're looking to pressure wash your home, concrete, or deck, the experts at Absolute Exterior Cleaning can handle all of your pressure and power washing needs.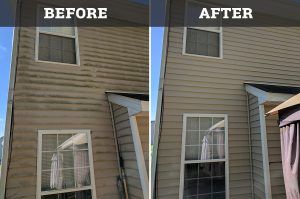 Pressure Washing For Your Home & Siding
Don't let another day go by letting mold, dirt and mildew destroy the exterior of your home and siding. Contact our professional power washers in Charlotte to safely and properly restore the outside of your home, no matter the size. Our safe and effective pressure washing systems are ideal for cleaning a variety of surfaces including vinyl, aluminum, brick, stucco, wood, cedar and more.
Pressure Washing For Your Roof
Pressure washing is extremely effective when it comes to removing built up dirt, grime and algae from your roof. If left untreated, your roof could be susceptible to an algae called gloeocapsa magma. This destructive algae actually eats away at the limestone filler in your roof's shingles and can drastically decrease the lifespan of your home's roof. Don't make the costly mistake of avoiding preventative roof maintenance and call our professionals today.
Pressure Washing For Your Deck & Fence
When it comes to deck and fence maintenance in North Carolina, there can be many challenges to keeping them clean. Unpredictable weather can lead to a buildup of mold, dirt and algae, which often results in a dull and faded appearance. Whether your deck or fence is made from wood, vinyl or composite, our power washing experts have the specialized skills and knowledge to safely and efficiently remove unwanted contaminants. Enhance the look and life of your deck or fence by calling the professionals at Absolute Exterior Cleaning.